Gather (Portsmouth, NH)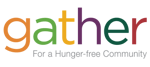 Food insecurity is one of the biggest problems facing today's world, and the US is no exception. Founded in 1816, Gather is an agency committed to ending hunger in our community. Gather serves families experiencing hunger by providing nutritious food, and offering nutrition education, and recipes for healthy living.

Ninety cents per dollar donated to Gather goes directly toward local hunger relief on the Seacoast, including Portsmouth, Rye, Seabrook, Stratham, Hampton Falls, Hampton, Greenland, New Castle, Newington, North Hampton, and Kittery, Maine. Each year around the holidays, our team runs a food drive and collects items for donation to the Pantry Market. We also have team members who volunteer during the summer at the Meals 4 Kids program, which works alongside End 68 Hours of Hunger to bridge the gap normally filled by school lunch programs for children experiencing food insecurity.